Now that our cards are finally sent off and (hopefully) in the hands of their intended recipients, I can share what they look like. I'm so in love with how they turned out, and I'm so excited that we were able to do this again this year! Sending Christmas cards isn't something I really remember doing as a kid – I'm sure my mom sent them, but they were always just store-bought cards and I always loved admiring the cards from friends and family who included information about their year and photos of their family. So, of course, it's awesome to be able to send out one of those very same cards I swooned over as a child!
Corey and I snapped this photo in our backyard back in October-ish, and we were both incredibly grumpy during this entire mini-photoshoot because it was 80-ish degrees outside and we were miserable in our winter gear…but we wanted it to look authentic! We tried a couple of shots with the dogs, too, but that totally didn't happen. They're pretty hopeless.
The back is my favorite part – I love reading little snippets of people's lives (maybe why I'm so addicting to stalking Twitter?) and I thought this was a fun way to share a few big things from our year without going into full-on newsletter mode.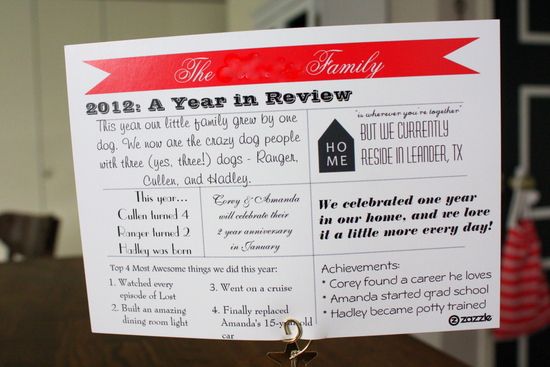 I'm hoping the card makes a few of our friends and family smile – I feel like it's becoming a thing of the past to send out Christmas cards, and that makes me so sad! I plan to keep the tradition alive as long as I can.
Do you send out Christmas cards? Anyone send out a family newsletter? I could never have the patience to write one, but I always love reading 'em!
Like this post? You might also like...