First off, let me just make sure we're all clear here: Corey and I are NOT moving. We have no plans to move for at least the next 5-10 years (unless something drastic changes), and even if we were in a financial position to do so, we have no desire to leave our home right now.
But.
I've had moving on the brain. So many of my favorite bloggers are moving/buying new houses right now (see exhibit A, exhibit B, and exhibit C), and we just helped one of our friends move into a new house too. I'm jealous. There's just something so special and exciting about looking at houses, dreaming about which one might be right for you, and when you finally choose, moving into your new, empty home with so much possibility laid out in front of you.
I mean, if we're being realistic, I hate the actual process of moving. Packing, loading up the UHaul, and unpacking for weeks is absolute hell, but all that other stuff? The parts where you get to choose new paint colors and pick out where to put everything, and that first night spent in your new home? That's the best.
So, since I've been thinking so much about the wonders of moving and I've been so jealous of these people who get to start fresh in a new house, Corey and I have been chatting a bit about what we would like to do differently the next time around. Don't get me wrong, we love our house, but there is always room for improvement! So, today I'm going to run through a quick list of what we would want in a new house if we were moving. Because, sometimes it's just fun to dream, right?!
1. Master bedroom on the first floor
We love having a two-story house. It's nice that half of the house doesn't really need to be cleaned when we have guests over, because no one will be going upstairs, and we like having the two areas separate. We also end up with a much bigger backyard, because our square footage goes up, not out. BUT. If we were moving, I think it would be more important for us to have the master on the first floor, rather than upstairs with the rest of the rooms. Right now, this isn't something that impacts us hugely, but I think when we have kids it would be nice to have some separation from them (so if they stay up all night giggling with each other, we don't have to hear it!), and it would be nice not to have to trudge up the stairs every time we need something from our room.
2. Non-textured walls (or, less textured walls at least)
(This room showcases our weirdest texture on the walls!)
This one sounds silly, right? But, um, SERIOUSLY. Next time we move, we will NOT have textured walls or ceilings. It's a little touch, but it's something that makes a huge difference in how fresh and updated the house feels. Our walls have a really thick texture (and in some rooms, a really weird one), and it's one of those little things that just drives us nuts. And the ceilings? I honestly have no idea why popcorn ceilings ever existed, but they are the WORST! We could always scrape the popcorn off, I know, but with our vaulted ceilings it would be a huge undertaking and we aren't quite sure we want to go there yet.
3. A well-maintained exterior
Our house has some okay curb appeal from far away. It's a relatively cute house, the colors aren't too offending, and the lawn looks pretty nice. But up close, it's like a horror movie. The colors are both very muddy and weird, and there's no real classification for what color they are. Tan-ish, cream siding? Or is it peach? Pink? Blue trim? Or is it more gray?
And the paint job?
I'm fairly confident whoever did it was blind. There is paint splattered everywhere. On the brick. On the roof. On the part under the roof. On the window frames. It's more or less the worst paint job ever. And we won't even get into the status of the wood siding. It's splintering, peeling, and just not looking so hot anymore. And, obviously, that's going to be a huge amount of money to actually fix. Which means for the time being (aka: a very, very long time), we're just going to have to deal with it.
4. A better neighborhood.
Really, we love most of the things about our neighborhood. It's in a great location that is continually growing and expanding, there's no HOA so we don't have to worry about pesky fines for leaving our trash can out too long, and it's an older neighborhood so there are lots of pretty trees.
But.
There's no HOA, which means lots of people don't take care of their yards. And our neighbors aren't super friendly (no block parties here!), and some of them are downright rude. I think the next time around we will focus a little more on the actual feel of the neighborhood and whether or not it is a friendly, well-maintained place. We certainly don't feel unsafe in our neighborhood or anything, but it sure would be nice to at least be on a first-name basis with the people who live next to us.
Whew.
Do I sound like I hate my house now after all that complaining? I promise I don't. Let's balance it out with a few things we did totally and completely right when we moved here.
1. The floor plan is open but defined, and it feels unique.
I don't really know how to explain this one, but there's just a feeling I get in some typical suburban homes that I've seen that floor plan a million times. They all look the same to me. This one, however, has a different feel to it and I love it. Maybe it's just because it's older, but there's something about the layout of our house that makes it feel a little different from your standard neighborhood home and I love that. I also love that our floor plan is very open on the first floor, with the kitchen, dining, and living rooms basically being one big room, but it's also defined enough that there's a clear distinction between each room, so it doesn't just feel like one giant space.
2. We have a huge backyard.
The backyard was a big factor for us when we were looking for houses, and I think we knocked it out of the park. We absolutely love our yard (though it definitely needs some love – and a patio – to be in even better shape) and it's perfect for our dogs. They have a ton of room to run and play, and Corey and I love the beautiful trees that came with the house.
3. We have vaulted ceilings.
(An old photo, but it shows the ceiling well!)
I adore high ceilings. They make a room feel so much bigger and brighter, and we were lucky enough to get them in the living room, our bedroom, and the master bathroom. They may have made painting the rooms a bit (a lot) harder, but they're so worth it!
4. We live close to family.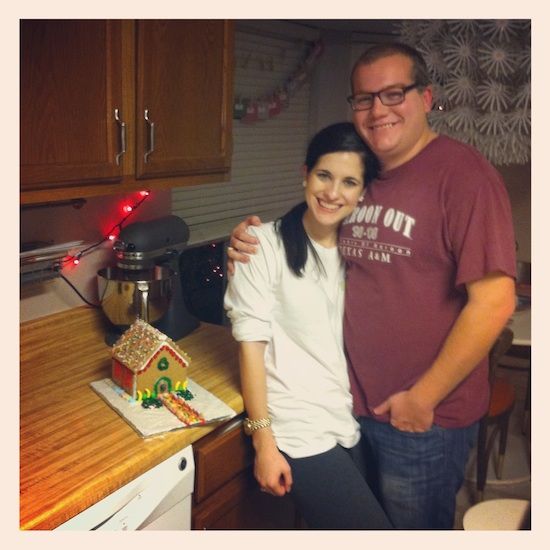 (From making gingerbread houses with my sister and her family this past Christmas!)
Our neighborhood may not be our favorite, but we'll gladly trade the friendly neighbors and well-kept streets for the proximity we have to my sister and her family. We're walking distance from their house, which makes hanging out with them super convenient. We're also close to both sets of parents, as well as just about everything else we could possibly want. Who needs a super awesome neighborhood when you have a super awesome sister just right down the road?
5. We have lots of room for improvement.
One of the best things about our house was also one of the few things on our non-negotiable list when we were house hunting: we wanted a house in need of some love. And boy, did we get it. Most of the functional parts of our house were just fine when we moved in (aside from the windows), but there was so much work to be done cosmetically, and we love that we get to do all of that work and do it exactly the way we want it. We've made a lot of progress over the last almost-two-years of living here (which you'll hear all about next month with the 2-year house tour!), but we still have a very long ways to go, and I'm excited to keep working on and improving our house!
What are some things you'll do differently next time you move? On the flip side, what do you love about where you live?
Like this post? You might also like...