I shared the Christmas cards that we sent out yesterday, but what about the ones we receive? I love (LOVE!!!!!) getting mail, and Christmas cards are probably one of my favorite things ever. It's so much fun to go to the mailbox throughout the month of December and find new cards waiting for me, and I love displaying them in the house to enjoy for as long as possible.
We actually get quite a few cards thanks to a card exchange I do with the bloggers from Weddingbee – last year we had both of the windows in the dining room completely full of cards, and although we haven't quite gotten there yet, I have full faith that we will!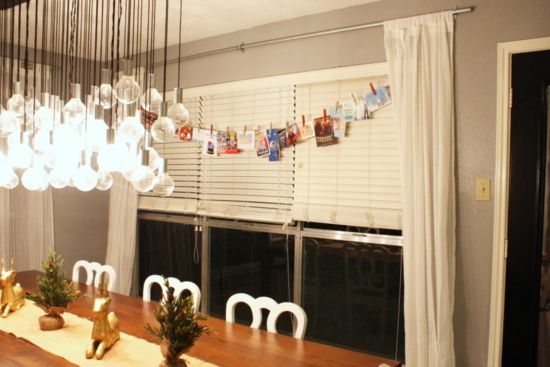 (Please excuse the less-than-stellar photos – I forgot to take them until after the sun went down, hence the darkness. Whoops!)
This is basically the simplest, cheapest, and quickest way to display holiday cards in the entire world. Promise. All I did was grab some twine (which I always have laying around somewhere in the kitchen thanks to our love of roasted chicken!), a few clothespins, and clipped up the cards! This year, I also got a little fancy and glittered up my clothespins with some Mod Podge (a quick brush on, sprinkle on the glitter, and add another layer of Mod Podge when it's dry), but that took all of five minutes! I love the sparkle it adds to the window, and it makes the whole display look a little more festive.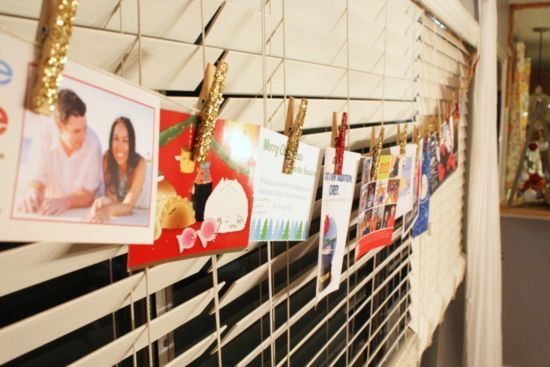 I love how this display adds a little more cheer to the dining room (which I'm going to share more of next week – it may be my favorite room in the house right now!) and it allows us to show off all of the gorgeous cards we get throughout the season.
Anyone else have a quick and easy way to show off your holiday cards? How about a brilliant way to save them after the season? I saw a fantastic idea this week for turning them into a book to display the next year, but I'm not sure I have the energy for that…
Like this post? You might also like...