Remember how I told you that I bought two canvases and I was working up the courage to actually do something to the second one?
Well, I did it! That's right, I finally got around to finishing up the second canvas, and I'm a bit embarrassed about how bit of a deal I made about it…it was so easy! You ready for the how-to? Here goes…
I borrowed a projector from my brother-in-law and set it up in the dining room. Then I found a silhouette of a deer that I liked online and got it as big as I could on my computer screen. I hooked my laptop up to the projector and, voila!
Instant art (well, almost). I traced the outline of the reindeer with a small brush and some red craft paint, then I was able to turn the projector off and get to filling in.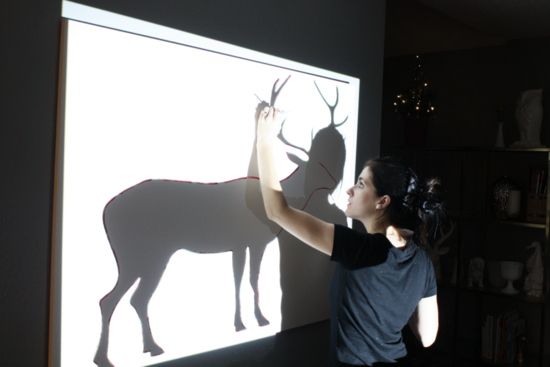 It took me about an hour to get the whole thing painted, and that was all there was to this project! So! Easy! And it makes a pretty big statement in the room too – and matches the rest of our Christmas decor much better than the regular floral print.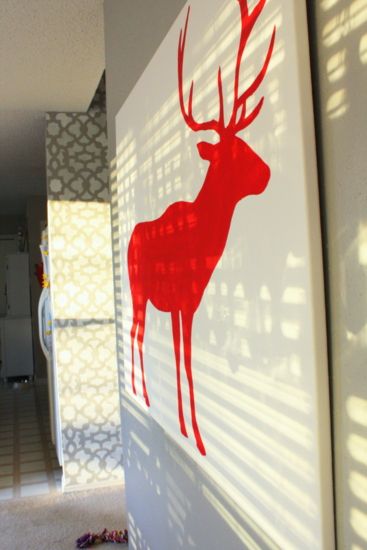 I also wanted to share our table setting for Christmas – Corey and I are hosting Christmas day at our house this year, so we spent a lot of time focusing on making an elegant table. We wanted to keep it relatively cheap, so we did our best to add in a few small pieces to accent our standard white dishes – we just grabbed some cute faux bois gold chargers at Target, and some graphic appetizer plates from Crate & Barrel, and we had a place setting that was Christmas-y and cheap to boot!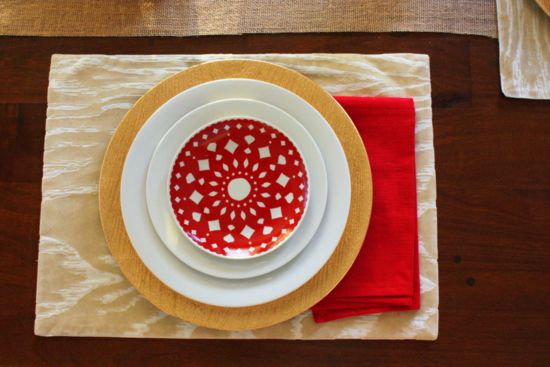 We also got some faux bois placemats and some red napkins from Target. I like how it ended up being a good mix of woodsy and glam – my favorite combination for Christmas!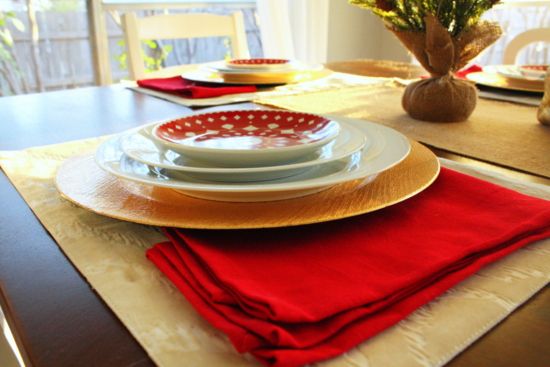 Of course, a Christmas table isn't complete without a centerpiece, so we grabbed some burlap for less than $5 a yard and cut a table runner (I didn't even sew it – just cut it down to size and plopped it on!) and some mini trees and gold papier mache reindeer to fill up the table. I love how it looks, and it really makes me want to find a nice simple centerpiece to keep on the table year-round!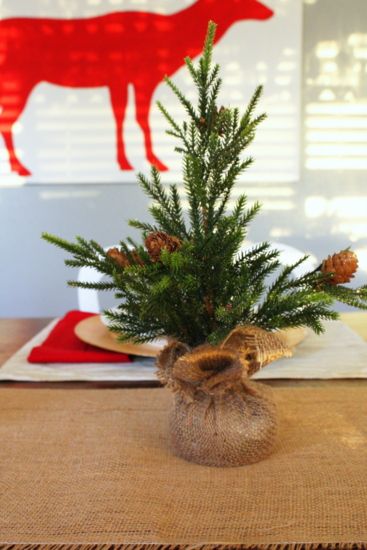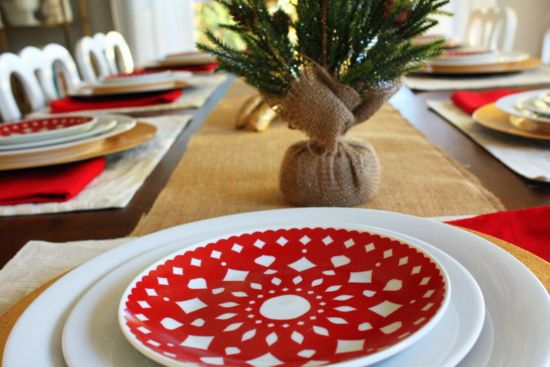 We had a pretty hard time deciding on what we wanted to do for our Christmas place settings, but I'm thrilled with how it turned out. We ended up with a simple display that will hopefully be timeless and last us for a very long time! I'm excited to get to use it all when everyone comes over for Christmas dinner!
Do you have Christmas plates? I'll admit – I got a bit obsessive about tracking ours down this year!
Like this post? You might also like...