We still have two or three things left on the to-do list before we can officially call the nursery "finished" but it is getting so close, my friends.
I shared our to-do list for the room the last time we talked about it, and it's safe to say that most of it has been crossed off the list. Here's where it stands as of today:
Finish baseboards
Finish crown molding
Finish middle of wall trim
Caulk all
Remove box trim
Paint baseboards
Paint crown
Paint middle of wall trim
Paint door frames
Paint windowsill
Paint touch-ups on wall
Paint doors
Install shelving OR add small bookcase in closet (We'll talk about this one soon!)
Install baseboards in closet (I'll be honest – we didn't actually do this, just decided to skip it for now. We'll get to it eventually!)
Hang curtains
New fan (Keep reading to see the details on this!)
Install new outlet covers
Reinstall outlet/light covers in bookcase
Doors for cabinets (Also in this post!)
Find a lamp
Fill/decorate shelving (Still slowly working on this, but we're almost there!)
Clean off stickers from crib
Crib mattress/liner/sheet
Changing pad and cover (I ordered a cover – so this is almost crossed off!)
Organization for closet
Baskets for shelving
Organization for dresser (We'll talk about all three of these organization ones – numbers 25-27 – in another post soon. Promise!)
6-frame gallery wall above crib
Hang sunburst mirror
So, if you're following along, we've only got three things left on our list. Well, four if you count the fact that we decided our bookcase doors need handles. So, four items to go and I can call this room done-zo. I promise there will be a full "official" nursery reveal when all is said and done with a full source list and everything (since I have had a lot of questions about where we got stuff!), but today let's chat about the fan and the bookcase doors, because those are the most recent updates.
First, the fan. Remember what the old one looked like?
Yeah, it was big, clunky, outdated, and apparently it was ready to get out of the room because it was literally trying to detach itself from the ceiling. Cute look, right?
We debated for a long time about what to replace this with. Obviously the ideal solution would be a pretty overhead light that does not spin. But, that wasn't really a realistic option for us. For one, we live in Texas which means it is frequently, as my dad likes to say "hotter'n blue blazes". Plus, most of what we've read said that a fan in the nursery is a good idea to encourage circulation and help lower SIDS risk – obviously a table fan would work just as well as an overhead fan, but unfortunately this room is so tiny there is no way we were going to be able to find a good spot for a table fan. So, overhead fan it is.
We did lots of looking around and finally settled on this guy from Lowe's. It was a little more expensive than we had hoped (the other one we were looking at was about half the price), but we loved how low-profile it was and the sleeker style was definitely worth the hike in cost for us. And I'm oh-so-glad we went with it, because it looks much better in the room.
I love how much smaller it looks (though it's actually technically the same size as the one we had before) and I'm so happy with how close it sits to the ceiling. And the fact that it actually is fully attached to the ceiling. Doesn't take much to make me happy!
The other big update to the room recently would be the doors we installed on our built-in shelving. Before, it looked like this:
Definitely not a bad look, but once we started to fill in the shelves it started to look very busy very fast. And considering how much storage space a nursery needs, we quickly realized that we would need some covered up storage for these guys if we really wanted to make this room functional. So, we grabbed a few doors for the bottom half and suddenly the room was looking cleaner, brighter, and MUCH more organized.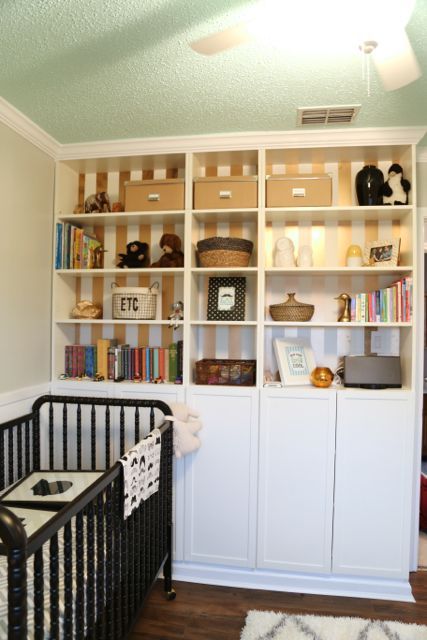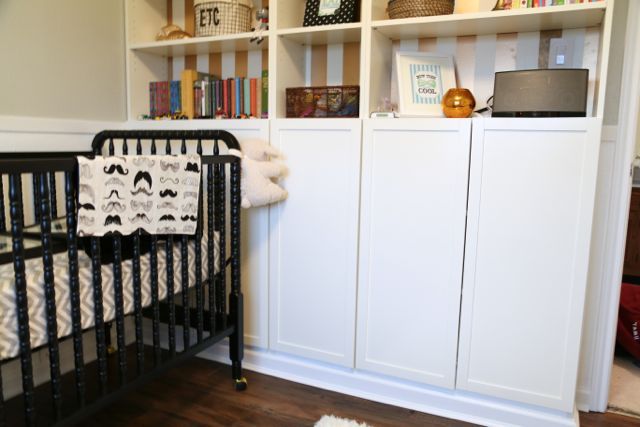 I love (love love love) how the doors look and I'm so glad we decided to go with them. It creates so much more functional storage space in the room, and is a nice way to keep curious little hands off of the stuff on the lower shelves.
One problem we found with the doors was that there is no latch at all, so they kind of just sit there. No big deal in most rooms, but we really would like something that makes the doors feel a little more "officially" closed. We are thinking about picking up some of those magnetic latches for the doors, so we'll let you know where we land on that. We also are going to install some hardware on the doors because the sea of white is a bit much in the tiny room – we think some pretty gold pulls would break it up nicely and make the doors a little easier to open. We've also got to do a little adjusting to a couple of them, since they seem to naturally hang crooked (what's up with that, Ikea?), but those are all minor things that we'll take care of soon.
I'm super excited about the doors and how much cleaner the room looks with them – I finally feel like this room is almost finished and I can't WAIT to get the last few things done so I can call it complete. I know Monster really won't care if there's a changing pad cover or if the art in his room is hung, but nesting can do crazy things to a person and I won't rest until this room is done.
What little updates have you been making lately? Anyone else been bit by the nesting bug? It's a doozy!
Like this post? You might also like...